Seeing through a scratched lens is uncomfortable and risky at the same time. It does not let you live your daily life generally because you will always have something bugging you through your eyes. Having a slight problem with your spectacles might ruin a special meeting or a business project, which we don't want to happen. This is why we are here with some great tips on how to remove scratches from glasses that you can do comfortably at home.

Is Removing Scratches from Glasses a Myth?

Many assume that it cannot be repaired once your glasses get scratched. The only solution for them is to replace them entirely. In the era of expensive lenses like blue lenses, changing them after minor wear and tear require excellent investment. What if we tell you, you can fix this minor wear and tear at home?

You don't need to change minor scratches completely; you can use home remedies to improve them. You must forget that even if you know how to remove scratches from glasses you can only fix minor scratches, and your solution might wear off. It would be best to change the lens for significant scratches, a complete and permanent solution for the glasses.

How to remove scratches from glasses

To remove minor scratches from glasses, you must make an easy solution at home and gently apply it to your glasses to fix the damage. The solution we are discussing can be made at home with simple ingredients, which takes little hard work. The essential elements to make the solution are baking soda and water only. Both baking soda and water are easy to handle and will not cause you any harm. The process of removing the scratches from glasses is as follows:

Step 1: The first step is cleaning your glasses. It is essential to clean your glasses thoroughly to see the damage clearly and to fix it. You can use a microfiber cloth to clean the lens.
Step 2: In the next step, you must make a thick consistency paste with baking soda and water, which you can apply to the lens. This thick paste is easy to make. All you need to do is add one tablespoon of baking soda and add it to a bowl. Then slowly add water and baking soda to make a thick, consistent paste.
Step 3: In the third step, you must be very gentle because it is time to apply the thick paste you have made on the glasses. Apply the paste in a circular motion, gently. Refrain from rubbing very hard because it can enhance the scratches.
Step 4: After keeping the paste on the glasses for some time, remove it gently through the water and dry off the lens with a clean microfiber cloth.
Step 5: The last step is to inspect the lens thoroughly to see whether the paste was able to fix the damage done or not. Suppose you see some effect of the paste on the lens but not up to the mark; then you can apply it again to perfect your lens.

Following this process will give you the answer to how to remove scratches from glasses easily. If you don't see any effect of the paste, do not apply it again. Now the only option for you to repair you're glass is to change it completely. Do not apply the extra solution because it might damage it more.

What you should not do!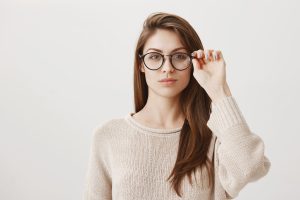 Now you know one great way to resolve your problem. People often get influenced by the information on the internet and try different remedies, hacks and tricks to repair their glasses only to know that it has a worse impact on them. Answering how to remove scratches from glasses is a tough job. Different solutions like toothpaste, wax, polish, etc., might work reversely on your glasses and enhance the damage. The only perfect solution to repair the lens is to change them. Normal wear and tear can be covered, but with enhanced impact, it is hard to say that you can renew your glasses at home.

How to protect your lens

As we know, there are not many reliable procedures that can do justice to your question of how to remove scratches from glasses easily; we need some protection methods that can stop the damage from the core. If you know how to protect your glasses, you will only have to seek the answer of how to remove scratches from glasses with little effort. We have some essential tips to help you protect your glasses, which are:
Seek Information: Seek information about your glasses and find out from the manufacturer whether they have scratch resistance coating. Usually, the manufacturers apply it to secure the glasses from damage. If you find that your glasses do not have such a coating, you can use it.
Clean Regularly: Scratches can occur if you don't clean your glasses. To avoid them, using a microfiber cloth to clean your glasses consistently is essential.
Be Gentle: You should be gentle with your glasses and handle them carefully to avoid unnecessary damage. Even while cleaning them, do not apply pressure and rub them tightly. Taking care will prevent your glasses from getting scratched.
Use contact lenses: During strenuous activities, you can wear contact lenses to avoid damage to the glasses. By switching to contact lenses, you can avoid unusual damage to the glasses.

Conclusion

Now you know how to remove scratches from glasses easily at home without much effort. If your glasses have faced normal wear and tear and do not have intense scratches, it is easy to fix them at home. If the damage is complex, the only option left to you would be to change the lenses completely. To avoid such irreversible damage, carefully take all the prescribed cautions.